Before the 2010 season I wrote this article for Pats Pulpit where I surmised that the Patriots really didn't necessarily need one OLB pass rusher to solve their pass rush problems. What they needed was more pressure from the entire defensive front seven. So not just the high end sack artist type, but the three to four sacks from a multitude of players.
Here was the breakdown of total sacks and sack leaders from the past decade:
2001 – 41 (Super Bowl Champs) Hamilton – 7

2002 – 34 (missed playoffs due to tie breaker) Seymour/McGinest – 5.5

2003 – 41 (Super Bowl Champs) Vrabel – 9.5

2004 – 45 (Super Bowl Champs) McGinest – 9.5

2005 – 33  (Lost AFCDG) Colvin – 7.5

2006 – 44 (Lost AFCCG) Warren – 7.5

2007 – 47 (Lost Super Bowl) Vrabel – 12.5

2008 – 31 (Missed playoffs due to tie breaker) Seymour – 8

2009 – 31 (Lost AFCWCG) Banta-Cain – 10
And now we can add:
2010 – 36 (Lost AFCDG) Wright 5.5
It was our general determination that you really wanted to be around 40 sacks for the season, and after back to back seasons if 31 total sacks in 2008 and 2009 the Patriots improved to 36 sacks in 2010, good for  t-14th in the NFL.
However Mike Wright's team leading total of 5.5 was the lowest since 2002, and he only played in 10 games. Myron Pryor also battled back problems this season, limiting him to just a half sack. Losing your top two interior rushers can cripple a team, and it surely had an effect on the Pats, especially in the playoff game where they were sack-less.
But it appears that this Patriots team was on the right track and had Wright played the last six games it's likely they would've been right around 40 sacks.
2010 appeared to be a step in the right direction. It's hard to read too much into these numbers because they don't include QB pressures, but when you're leading sack guy is 4.5 sacks lower than last year yet you still have more sacks total you're getting better production across the board. 
That is the tenet of the 3-4 defense, applying pressure from multiple different spots. Adding additional young pass rushers both on the interior of the line and at outside linebacker will again be a priority, but it looks like the pieces are starting to come together.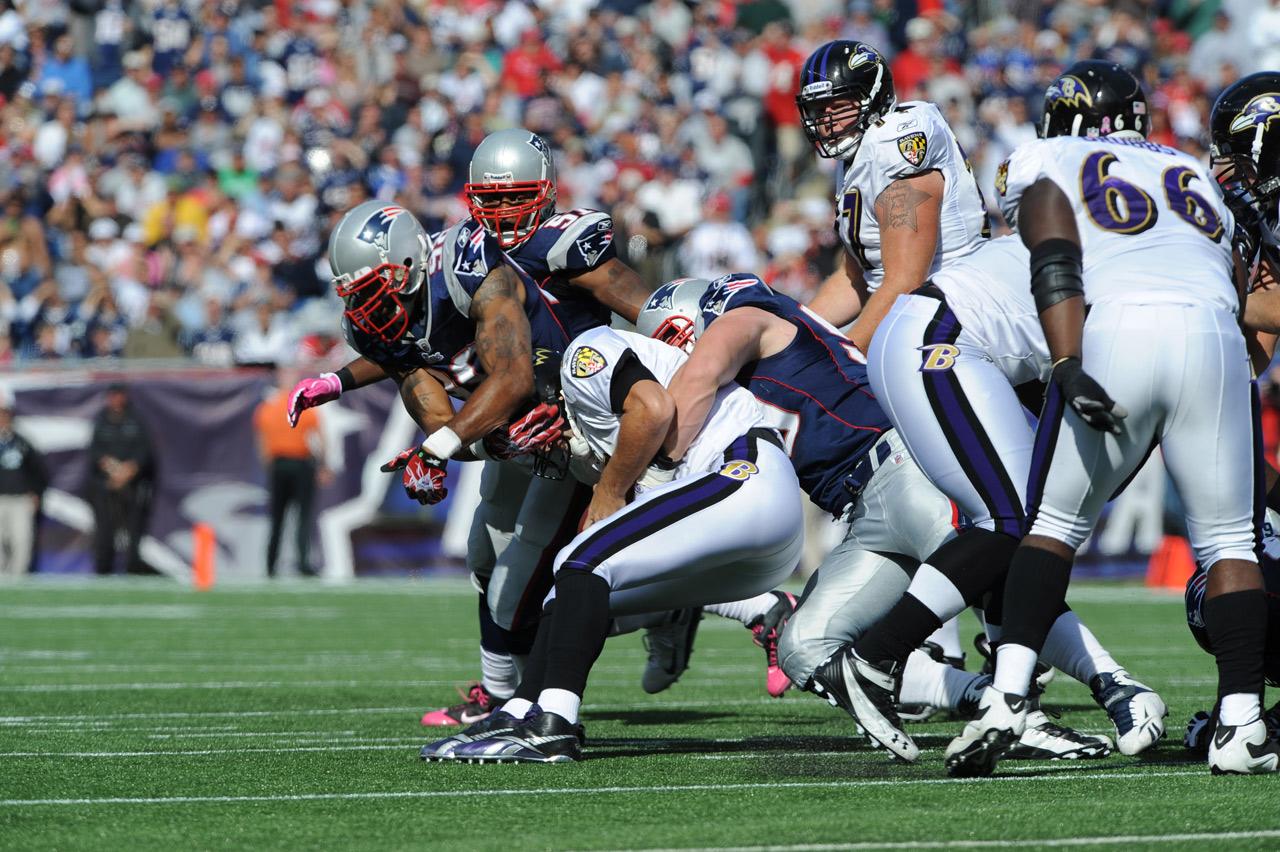 The Pats missed Wright late in the season.